Wedding Day Plans
Roslyn McFarlane Wedding Celebrant About The Wedding Day
Access Civil Ceremonies would like to take this opportunity to congratulate you on your upcoming marriage
I welcome the opportunity to help you celebrate your marriage by working with you to create a Marriage Ceremony that suits your individual style.
Your needs are my priority I know how important this special occasion is to you. It is the most important day of your life and you will be surrounded by those people whom you love the most.
My area of expertise is with the creation and delivery of your marriage ceremony. I promise that I will make that as stress free as possible for you. It will be One which complements the theme of your wedding, your personalities and incorporates all of the aspects of your relationship that you want included. You will be involved in it all the way from our first chat until completion.
You can rest assured that I will do everything in my power to ensure that everything I do has been approved by you, beforehand. There should be no surprises.
What you need to be married
The legal aspect of getting married is generally very simple.
1. You are required to complete a "Notice of Intent to Marry" not less than one month before you plan to marry.
2. You are required to provide proof of Date and Place of Birth in the form of Birth Certificate or Passport
3. You should provide Photo proof of Identity, which is usually in the form of your Driver's License.
4. Before the marriage you need to sign the "Declaration of no Legal Impediment".
5. On the wedding day you are required to say the words as set out in 'The Monitum" according to S.43 of the Marriage Act.
6. You need to have 2 Adult witnesses who understand English.
7. If you have been married before you are required to provide proof of Divorce or the Death Certificate of your former spouse.
Avoid too much alcohol before the ceremony.
Do not take any recreational drugs before the Ceremony. Your Celebrant must refuse to conduct the ceremony if the Bride or Groom is under the influence of Alcahol or Drugs and in the opinion of the Celebrant cannot give INFORMED CONSENT.
There are many things for you to consider when planning your wedding day.
Will you have a Civil or Religious Wedding?
Where and when the ceremony will take place?
Who will be your Attendants and Witnesses to your marriage?
How many guests will you invite?
What theme will you choose? Will it be Formal or Casual?
Will you have a big traditional wedding or small intimate one?
How will you arrive at the Venue?
Do you want a still photographer and a Videographer?
Will there be a band or a DJ What type of music?
What is my budget?
Where will we go on our Honeymoon?
The list goes on and on.
The unexpected can happen and you will have a lot invested in your wedding day so I recommend that you consider taking out a Wedding Insurance Policy.
Some tips for a stress free wedding day
Have a wedding ceremony rehearsal with as many of the Bridal party present as possible. Knowing what to expect and where to stand etc. will ease a lot of tension for the whole Bridal party.
Have a check list for both the Groomsmen and the Bridesmaids.
Double check with all of your providers 2 days before to make sure everything is in place, then Relax, you have engaged the best professionals to attend to your needs, they will not let you down.
Have a light plain early breakfast and another few light snacks (plain Savoury biscuits and plain lemonade) before the photographer arrives. This will stop the feeling of light headedness and fatigue as the day wears on. It will be a long time until your eat a decent meal.
Allow plenty of time for the hairdresser, makeup etc.
Have a Plan B in place for most things, especially wet weather.
Keep all relevant phone numbers with you and a mobile phone with someone travelling with the Bride and make sure that the Celebrant has that Phone number.
Be aware that some country areas may not have mobile phone access, check that out well before the wedding day.
Ask guests to arrive 15 minutes before the scheduled ceremony commencement time.
Relax and have a wonderful Wedding Day
Roslyn McFarlane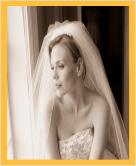 Member of the Ceremonies and Celebrations Network Inc.
• e-Mail us to accesscc@ymail.com
• PHONE 0401 275 678 •
IT IS THE LITTLE THINGS THAT COUNT THE MOST